The Cardinal Room at the Golf Club of Indiana
The Cardinal Room offers an experience like no other facility in Central Indiana. This private atmosphere is nestled on 175 wooded acres near the picturesque town of Zionsville. Hosting up to 300 guests, our 6,700 square foot facility can host any type of event. With the addition of our new exterior deck space, our clients enjoy an additional 3,00 square feet of exterior space to provide versatility to your needs. Our award winning staff will collaborate with you in designing an event to remember.
We take great pride in providing first class customer service. We only allow one event per day in The Cardinal Room so we can focus on you before, during, and after each event. Also, there are no "food minimum" requirements, allowing our clients flexibility in their budget. Whether you're looking for a venue to host a wedding ceremony, wedding reception, corporate event, holiday party, fundraiser or graduation party, The Cardinal Room is the ultimate destination.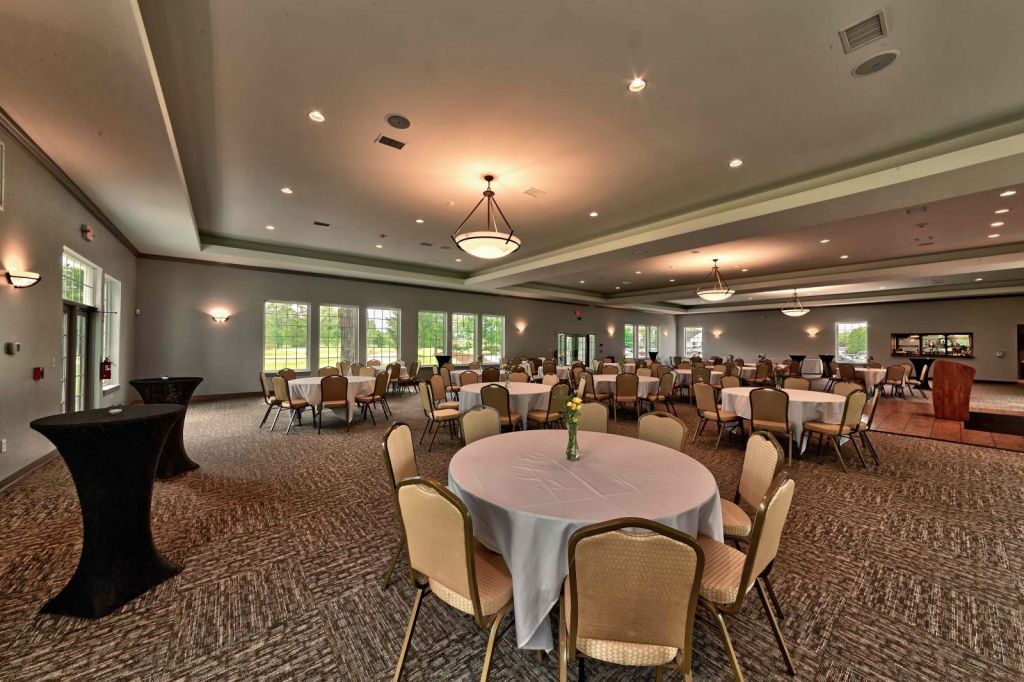 An Event to Remember
Offering a variety of lunch & dinner buffets, we can contract catering services or work with your caterer as you prefer. Either way, you'll find Golf Club of Indiana to be the perfect host for your event. Submit your Agreement to Hold Golf Outing at the Golf Club of Indiana by filling out the contract below and faxing it to us.  Our personnel will contact you with a confirmed date. If you are looking to host your wedding, formal event, graduation party, business meeting, etc. please visit www.thecardinalroom.com for more information.
For more intimate gatherings, our new Ruby Room is available with both indoor and / or outdoor seating with a spectacular view of the golf course. Please contact us for more information.
If you would like additional information regarding golf outings, please email Victoria Long, our Outing Coordinator. She will get back with you promptly regarding outing information.