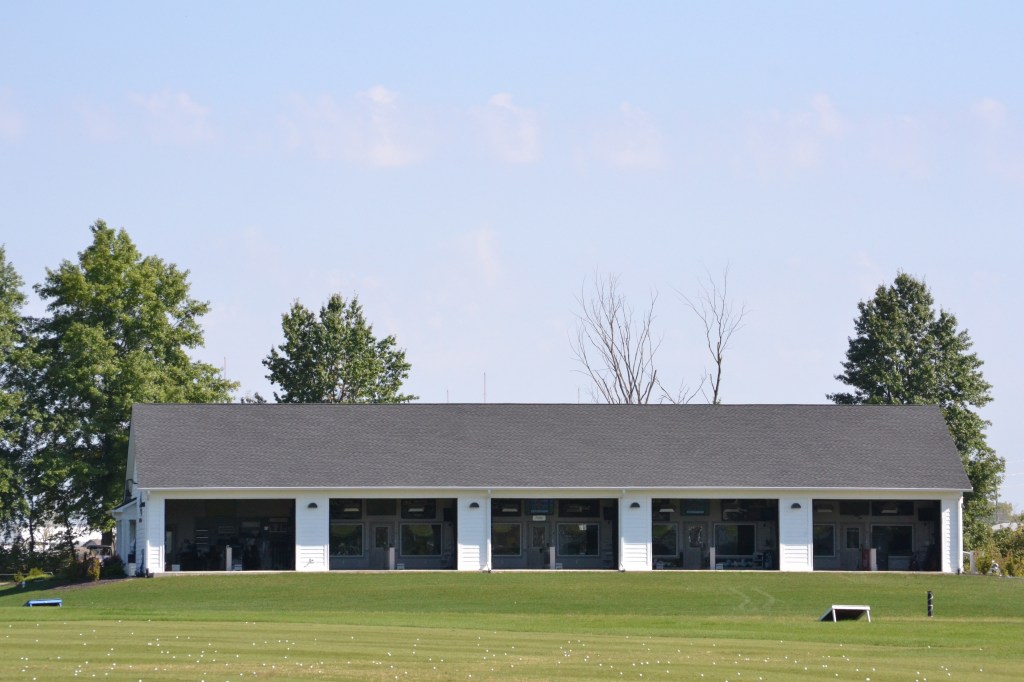 The Golf Pro-Formance Academy is closed until the end of the 2023 golf season.

Scheduled lessons, clinics and fittings are still available through our award winning staff!
For information related to instruction, please contact our Director of Instruction, Tony Day at tonyday@pga.com or 317-709-0725.
For information related to club fittings, please contact our Director of Fitting, Mike Snyder at mikesnyder0519@gmail.com.
---
The Golf Pro-Formance Academy at Golf Club of Indiana is a state of the art premiere Indoor/Outdoor practice and instruction facility located on the north end of Golf Club of Indiana's driving range. Located in the picturesque Town of Whitestown and near the City of Zionsville, The 6,000 square foot building features ten heated indoor hitting bays integrated with the latest in FlightScope technology in each hitting bay, a 600 square foot putting green, SAM Putt Lab technology and multiple large screen televisions throughout the building.  In addition, there is a full service bar and snack area, and a warm sitting lounge with a 70″ television and fireplace.  The outdoor grass tee features over 1 acre of pristine grass surface, a 2000 sq foot short game target green, multiple targets for honing in your distance control and Mizuno practice range balls throughout the facility.
Professional Golf Instruction
The Golf Pro-Formance Academy at GCI is fully staffed with trained professionals from both the PGA and LPGA including 2-time Indiana PGA Teacher of the Year Tony Day, PGA (2013-2017), LPGA Tour Alum Susan Thielbar, LPGA, and PGA Director of Junior Golf Development, Mike Asbell. The Golf Pro-Formance Academy is the premiere instructional facility in the Indianapolis, Zionsville and Whitestown area.
 
Golf Pro-Formance Teaching Methods
When you visit Golf Pro-Formance Academy for the first time, no matter what your skill level a swing consultation will take place. It will consist of an oral interview, equipment evaluation and use of our High Speed Video Swing Analysis. After your evaluation your instructor will best map out your path to improving your golf game.  Whether it is short game, long game, course management or just better ball striking, your road to better golf will start immediately on your next visit.
Junior Golf Camps and Clinics
Junior golfers can join our Little Linksters Program, our four day camps or our After School Clinics and improve their swings & meet new golf buddies. Mike Asbell, PGA Director of Junior Golf Development, and his team of certified instructors, will help put everyone at ease upon their first visit to our golf school. His team will teach the fundamentals of the full swing and short game.  Rules, etiquette & proper behavior on the golf course play an important role in the camps instilling the importance of respect, tradition and sportsmanship that are a vital part of golf and life.  
The Elite Academy at The Golf Pro-Formance Academy- The Next Level in Junior Golf Instruction
Mike's Elite Junior Golf Development Program is simple but scientific golf instruction educating the student on swing mechanics while defining a pattern for accomplishing their goals throughout their golfing lives. Whether the player is trying to compete in High School, College or Professional Golf, our year long programs include on course training, equipment fitting, and mental along with the physical coaching, all designed to support and grow your child's ability and experience to it's highest potential.  
This Invitation Only program is designed for those players and parents looking for the very best in year round intensive immersion in the training of golf.  The Elite Academy is the only Junior Training Academy of it's kind in Central Indiana.  Contact Mike Asbell for more information on the Winter Golf Training Program and the Summer Golf Training Program.
Corporate Golf
Golf provides a unique opportunity for business. Golf represents the measure of ones character and their business character. GPA's corporate programs are about investing in your biggest asset- your sales team. Our staff will teach the basics of the full swing, team building and the art of customer golf. The programs can be tailored from an hour course to a 3-day golf boot camp with on course instruction.
GPA's Corporate Golf Curriculum
Teach your team members the basics of golf regardless of their skill level
Teach the basic Rules of Golf
Where to play and what time
Team building
On course behavior
Tony Day – PGA
2013 & 2017 Indiana PGA "Teacher of the Year"
Tony is an Indiana native from Seymour and attended Vincennes University as a student athlete.
He has been a member of the PGA of America for over 27 years and has been with the Golf Club of Indiana for 22 years. Tony's work experience includes working at some of Indiana's finest private and daily fee golf courses as an assistant pro and head golf professional. Tony is also listed on Golf Digest' Top Golf instructors list of Indiana.
Throughout the years, Tony has been able to gain experience in teaching and club fitting by observing some of America's greatest teachers. He has been fortunate enough to mentor under Mickey Powell, former President of the PGA and current Director of Operations Jeff Rubenstein.
Tony's real passion lies in teaching golf and club-fitting which he has done full time since 1999. Whether you are a seasoned veteran, week-end golfer or a novice, let Tony work with you on your journey to learn the game of a lifetime.
Tony has been married for over 25 years to his wife Brenda. Their daughter Kylie graduated from Zionsville HS. She then graduated from Holy Cross at Notre Dame where she was a member of the Girls Golf Team.
Contact Tony today to learn more about the Golf Pro-Formance Academy.
Director of Instruction:
Tony Day
Golf Club of Indiana
PO BOX 5009
Zionsville, IN 46077